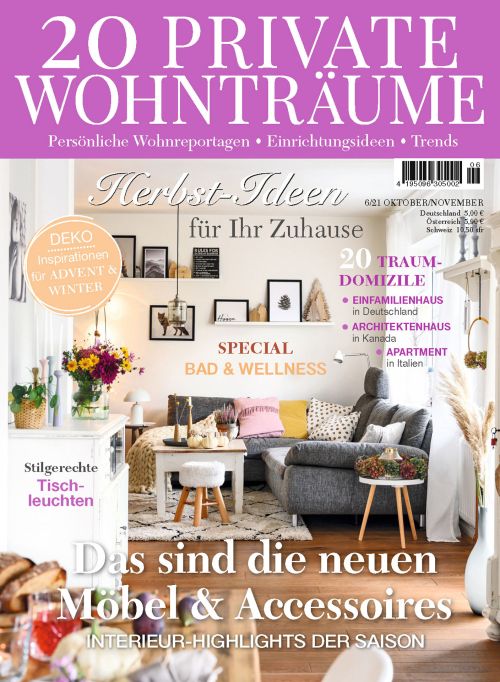 20 PRIVATE WOHNTRAUME GERMANIA | 10-2021
A few steps from the Giardino dei Semplici in Florence, the 65 sqm duplex apartment is the result of the renovation of a single-storey room with an attic, located on the top floor of a 19th century stately building.
The fulcrum of the project was the demolition of a portion of the existing floor, making it possible to obtain a double volume, possible thanks to the height of the compartment. This meant that the spaces, once restricted, once structured to the best, expanded and gave life to new perspectives.
The rooms and private spaces gravitate around the open space living room: the mezzanine and the master bedroom, which can be accessed via a door flush with the wall.
They are designed to offer comfort and practicality of spaces, but also privacy and confidentiality, thanks to a defined but at the same time permeable spatial division between light and
transparencies. An English-style stained-glass window in burnished metal makes the second level permeable, even if separated, at the same time allowing the light to be distributed evenly in the rooms, shaping the spaces.
Once the space was redistributed, the interior design project involved the choice of materials and finishes, with a dark oak parquet flooring in contrast with the fresh tones of the walls and fabrics. The living room and dining room have been separated and connected by a compact but functional Arclinea compact peninsula kitchen in a brand new petrol green color, with the iconic freestanding Smeg for a touch of design. Like a cloud suspended on Lema's Graceland table, the Zeppelin lamp by Flos. For the bedrooms, colors such as blue and green were chosen by the client for a relaxed atmosphere, enlivened by the natural light that pervades the apartment. The master bedroom, with Lema's Victoriano bed, in fact overlooks the elegant internal courtyard and is equipped with all comforts, such as a private bathroom and a custom-made bathtub covered in Carrara marble.
The space becomes, on the whole, an open and youthful place: a combination of spaces that meet, additional volumes, material and chromatic suggestions.